The

Builder

The Builder is the person that gets things done. When there is a bridge to be built, an engine to be fixed, or a thing to be made you are the first one with your hands on the tools. You are quick to learn and efficient with your time and energy. It won't always be easy but you are willing to put in the work. All across this country we have to physically build a new low-carbon world and you will be the one to make it happen.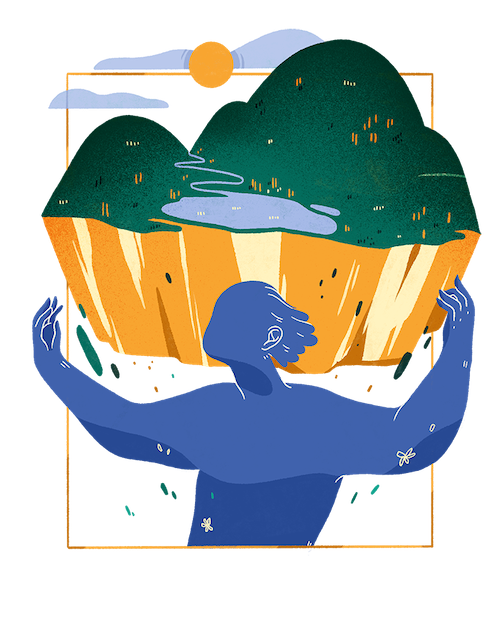 Sign up to learn more about green new careers and how you can make them possible!
About the Builder
Builders love putting things together. From machines, to groups, to new ideas, they feel a connection to how pieces can fit together to make something beautiful.

Combining spontaneity with logic, Builders can switch mindsets to adapt to new situations with little effort, making them flexible and versatile individuals.

With hands-on creativity and spontaneity, Builders are naturals in crisis situations. They  usually enjoy a little physical risk, and they aren't afraid to get their hands dirty when the situation calls for it.

They are able to stay quite relaxed. They live in the moment and go with the flow, refusing to worry too much about things they cannot change.
Friendly but sometimes private, calm but suddenly spontaneous, extremely curious but often unable to stay focused on formal studies, Builder personalities can be a challenge to predict, even by their friends and loved ones.
Explore Your Other Green Careers Possibilities
Your Role in a Green New Deal
Builders physically transform our environment to reach the zero carbon future we need. They will find new ways of building, creating, crafting, and designing that make our communities both sustainable and resilient. We need so many new buildings, public transit systems, renewable energy systems, and products, as well as new ways of recycling and reusing what we have already made.
In a Green New Deal future, Builders could repair bikes, construct zero carbon buildings, invent a new type of electric car, or plan out how to switch their local grids to renewable energy. When Builders roll up their sleeves, we know that the job will get done.
Builder Qualities
Independent,
Stable,
Persistent,
Genuine,
Practical,
Thrifty,
Strong Willed,
Handy,
Creative.
If We Fully Invest 10 Trillion in Green Infrastructure
4

,

745

,

028
Builder Green Careers Will Be Created
Learn More
416,569

Wind Turbine Service Technicians

1,350,233

Truck Drivers

81,944

Plumbers, Pipefitters, and Steamfitters

175,794

Electricians

88,497

Production and Operating Workers

173,474

Construction workers

121,297

Mechanical Supervisers

48,652

Telecommunications Line Workers

73,993

Electrical Power-Line Workers

51,845

Carpenters

19,966

Rail Car Repairers

79,057

Operating Engineers

17,036

Machine Tool Setters

43,299

Welders and Brazers

18,471

Control and Valve Installers

110,197

Mechanics Engine Specialists
What Can You Do To Win Us Green New Careers?
To win Green New Careers, we'll need to work together to push politicians across the country to support bold climate infrastructure. The only thing politicians understand is power and we gain that through working together. We need to stand together as a movement to take direct action that brings awareness to our cause, bring votes to the ballot box, and organize our local communities to voice their need for Green New Careers. The Sunrise Movement is a national climate activist movement that has been fighting for the last five years to stop climate change and create millions of good jobs in the process and our actions have brought climate to the front of national politics and we need your help to push it further.
As a Builder, you like tasks that are tactile, physical, athletic, or mechanical. At Sunrise you can help win millions of green jobs by helping with event setup and breakdown, building stages, making signs and banners, or anything else that allows you to get your hands a little dirty. But your talents certainly aren't limited to manual labor. You could also be a field organizer, or an inventor who pitches clean energy solutions to their community to paint a picture of a livable future.
Builder Beliefs
Likes to work with their hands
Is fulfilled by seeing something through from just an idea to a finished product
Believes solutions to problems will come from hard work and determination if we are willing to try
Likes to work outside
Loves to work with a team
We can build a better world if we invest in ourselves