The

Organizer

The Organizer brings people together across different roles to make sure we work together consistently. We need you to marshal our collective power to fight for our rights, just like the generations before us. When problems come up in our communities or between people, you don't shy away. You believe conflict is an opportunity to bring us all closer to our shared goal of building a society that works for and protects everyone.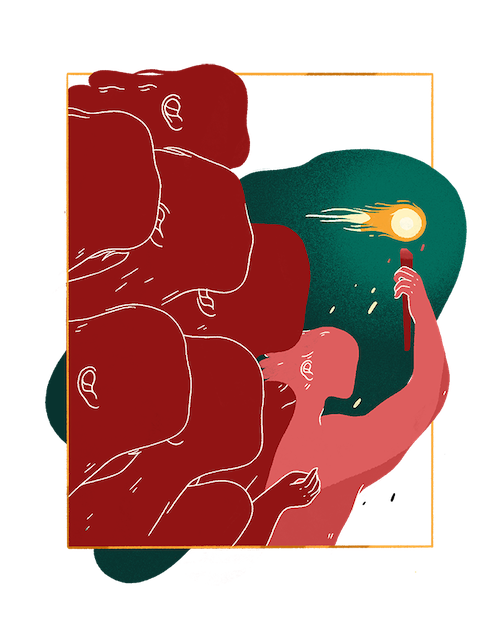 Sign up to learn more about green new careers and how you can make them possible!
About the Organizer
Organizers live in the moment and dive into the action – they are the eye of the storm. They enjoy the drama, passion, and pleasure of high-stakes situations. They love making critical decisions and fighting their way through issues or problems.

Organizers read the room and live in a world of clear, verifiable facts – the surety of their knowledge means that even against heavy resistance, they stick to their principles and push an unclouded vision of what is and is not acceptable. 

Organizers have a unique skill in noticing small changes. Whether a shift in facial expression, a new haircut, or a broken habit, people with this personality type pick up on hidden thoughts and motives when others may not. This makes them highly empathetic, great at connecting with others, and a pro at making people feel like they are valued.

Organizers have a strong sense of responsibility and always strive to meet their obligations, though this may sometimes be more from a sense of social expectations than intrinsic drive.

Organizers love a good challenge, big or small, and they firmly believe that given enough time and resources, they can achieve any goal. They rely on their ability to think strategically and hold a long-term focus while executing each step of their plans with determination and precision.
Explore Your Other Green Careers Possibilities
Your Role in a Green New Deal
Organizers are the glue that brings people together. They like to get to know others and help them find common ground across ideologies and differences. They often have a thousand and one opinions — but as true coalition-builders, they tend to listen first and ask questions later.
We need Organizers to help us see the shared truth across our communities and point in the direction of our collective future. They can use their energy and confidence to bring people together to find joy, truth, and meaning. They might do this as a politician, a community organizer, an activist, a manager, or an entrepreneur.
Organizer Qualities
Adventurous,
Ambitious,
Assertive,
Extroverted,
Energetic,
Enthusiastic,
Confident,
Optimistic,
Persuasive,
Motivational.
If We Fully Invest 10 Trillion in Green Infrastructure
253

,

577
Organizer Green Careers Will Be Created
Learn More
297,655

General and Operations Managers

5,258

Meeting, Convention, and Event Planners

29,823

Management Analysts

1,704

Community Association Managers

151,201

Project Management Specialists

1,763

Chefs and Head Cooks

10,188

Chief Executives

764

Coaches and Scouts

12,141

Industrial Production Managers

36,646

Railroad Conductors and Yardmasters

24,709

Residential Advisors

24,597

Transportation and Distribution Managers

5,096

Instructional Coordinators

6,999

Fundraisers

84,754

Construction Managers

41,621

Architectural and Engineering Managers
What Can You Do To Win Us Green New Careers?
To win Green New Careers, we'll need to work together to push politicians across the country to support bold climate infrastructure. The only thing politicians understand is power and we gain that through working together. We need to stand together as a movement to take direct action that brings awareness to our cause, bring votes to the ballot box, and organize our local communities to voice their need for Green New Careers. The Sunrise Movement is a national climate activist movement that has been fighting for the last five years to stop climate change and create millions of good jobs in the process and our actions have brought climate to the front of national politics and we need your help to push it further.
The way that we'll win Green New Careers is by organizing our communities to fight for the futures we need. As an Organizer, you're at the center of this effort. You thrive in public-facing roles, especially when they allow you to bring new people into the movement. You're always up for a challenge, and you take pride in meeting (and often exceeding) goals. At Sunrise you can help win millions of green jobs by mobilizing your friends and acquaintances, recruiting people to events, training and mentoring others, and finding common ground among the diverse array of people fighting for a livable future.
Organizer Beliefs
Likes to solve puzzles and problems, both big and small
They are uncompromising on their core values
Friends rely on them for advice/support in difficult times
Love to gather people together
Like creating structure that allows others to be successful